Daydream Tomb
Apr 27
Intro Video For Sir, You Are Being Hunted -
I cannot wait for this amazing looking game from Jim Rossignol and his team over at Big Robot.
Mar 29
Richard Hofmeier, creator of the IGF 2013 award-winning Cart Life, said in his acceptance speech that with the tools that are available now anyone could replace him. Anyone could make great games.
Then to prove his point he converted his Cart Life booth on the IFG show floor into a booth displaying Porpentine's Howling Dogs instead, even spray painting over Cart LIfe's logo.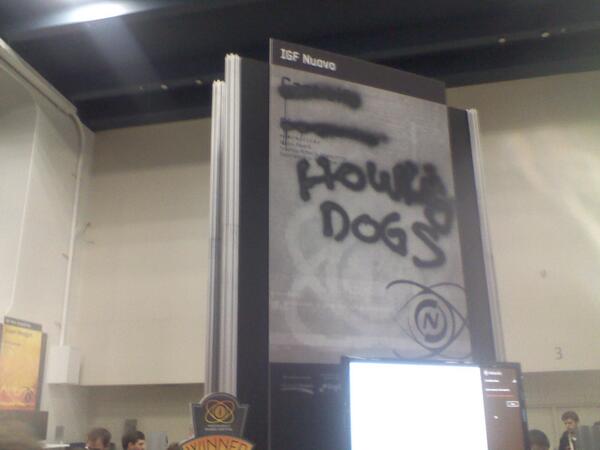 Is ethical free-to-play impossible? -
Vlambeer thinks that by refusing to take any more of my money after the first $3, they are occupying a moral high ground that F2P developers have, for the most part, abandoned in pursuit of profit. I think that this is nonsense. 
Be sure to read the comments section here as well.
Mar 26
Fairness, Discovery & Spelunky -
Spelunky, of my favorite games in recent years, is also one of game designer Jon Shafer's recent favorites. In this great article from his game design blog he sums up why unfairness is one of the keys to Spelunky's successful design.
In spite of the first impression it gives off as a twitch game, the quality Spelunky rewards most is patience. Take a methodical approach to every obstacle you face and there's a very good chance you'll make it all the way to the end. But that assumes you know how to overcome those obstacles. And here's where the critics who say Spelunky is unfair have some ammunition.
Mar 20
Reddit as a truly alternative development system -
Reddit lacks [an] algorithm, but it has communities that are extremely good at tearing apart content and analyzing ideas.
Mar 18
"Our increasing inability to recommend or warn against a game before it's on sale." -
John Walker writing for Rock Paper Shotgun argues against pre-ordering games.
Times are a-changing. Clearly. But not always in the most logical way. Throughout the 90s it was the case that games reviews appeared on the thinly sliced lifeless corpses of fallen trees, usually about two weeks before the game came out. Now, with the lightning-fast reflexes of the internet, a major AAA blockbuster game will likely, er, not have any reviews accessible to anyone until either the moment of release, or moments before. We've gone backward. There are still exceptions, like the console version of Tomb Raider this month, but more and more frequently review embargoes match release dates, while pre-order periods can begin at the very moment a game is announced.
I wholeheartedly agree.
Mojang Launching Minecraft Realms -
Mojang have announced their plans to start a new subscription-based private server model. They are even toying with the idea of allowing certain mods to run on these servers.
Mods then created with this tool would in theory always work with the game. If that comes to pass, he said, the developers could start hand-picking the most popular mods and add them to Realms for free. The team is also discussing internally if they should start allowing mod creators to start charging for their mods, something that currently isn't supported.
What Exactly is a Steam Box? -
Nice piece from James Plafke on a confusing issue.
The potential seems to be that Valve's Steam Box won't be a product but a brand, which doesn't make it that much different from any other piece of hardware in the PC gaming space.
Wouldn't Valve be smarter to take a page from Apple and now even Microsoft and build both the software and the hardware for their own device? 
Valve's Business Grew 50% in the last year
Xi3's CEO Jason A. Sullivan sheds some light on one of the reasons behind the growing divide between Valve's vision of a Steam Box and Xi3's Piston.
"Contrary to Valve's vision, Xi3 believes that the way to take this to market today is to do so with a Windows OS at the core, coupled with the ability to not just get to one platform/store for games, but to get access to all game stores/platforms," he said. "Studios should have the option to go through Steam if they choose or to go direct to the end-user if they so choose."